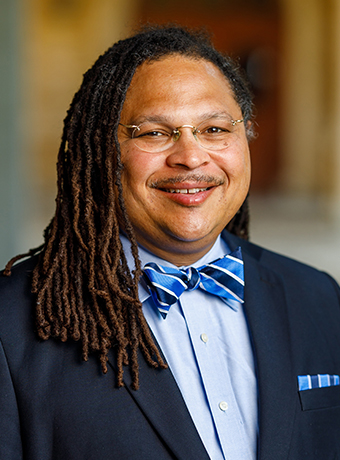 Northwestern Pritzker School of Law is pleased to announce that esteemed alum and Joseph A. Matson Dean and Professor of Law at Notre Dame Law School G. Marcus Cole (JD '93) will deliver the convocation address to the Class of 2021.
Dean Cole is a leading scholar of the empirical law and economics of commerce and finance. His extensive legal and scholarly background includes serving as a national fellow at the Hoover Institution, a fellow at the University of Amsterdam Center for Law and Economics, and a visiting professor at several institutions around the world, including the University of Amsterdam, the University of Vienna, Leiden University, Bucerius Law School in Hamburg, Germany, Northwestern University, Korea University, and Peking University School of Transnational Law in Shenzhen, China.
He was a faculty member at Stanford Law School from 1997 until he went to Notre Dame in 2019. At Stanford, he held two endowed chairs and taught courses in the areas of bankruptcy, banking, contracts, and venture capital. In addition, he served for five years as associate dean for curriculum and academic affairs.
Before his time at Stanford, Dean Cole was an associate with the Chicago law firm of Mayer Brown. He clerked for Judge Morris Sheppard Arnold of the U.S. Court of Appeals for the Eighth Circuit. He has also served on the editorial board of the Cato Supreme Court Review, the academic advisory board of BARBRI, the advisory board of the Independent Institute's Center on Culture and Civil Society, and as a member of the U.S. Court of Appeals for the Ninth Circuit's Bankruptcy Judicial Advisory Committee.
Dean Cole's research has explored questions such as why corporate bankruptcies are increasingly filed in Delaware and what drives the financial structure of firms backed by venture capital. His most recent studies have explored the ways in which the world's poor are using technology to solve their own problems, often in the face of government restrictions hindering such solutions.
The graduation committee selected Dean Cole after careful consideration. As a leader in legal education, he brings a unique perspective on the changes to the profession and the role of lawyers in pursuit of social justice, and Northwestern is thrilled to welcome him as our speaker. Get to know Dean Cole by watching this #NLawProud video where he discusses his Northwestern Law experience and his dream role as dean at Notre Dame Law School.
Additional information on graduation week events can be found on the Convocation page.