Jide Okechuku Nzelibe Elected to the American Law Institute
08.03.2020
Faculty
Scholarship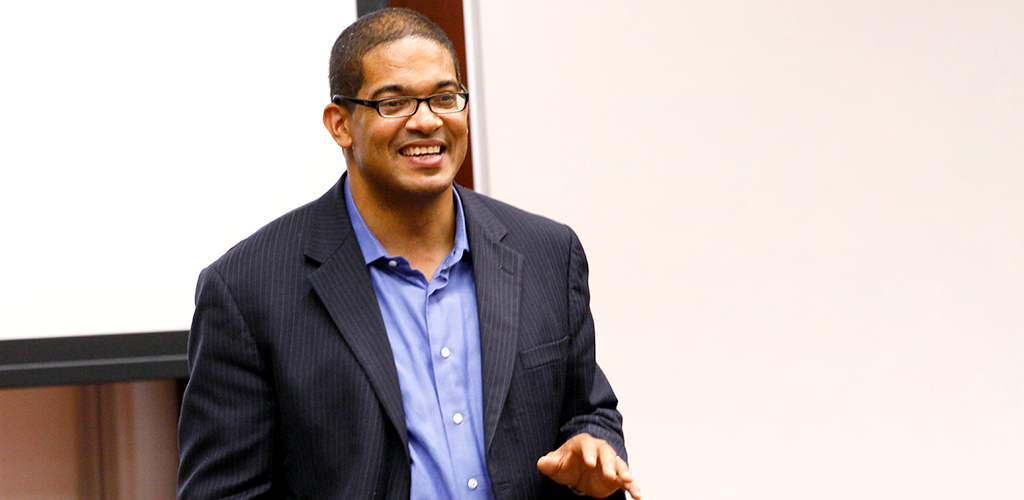 Jide Okechuku Nzelibe, Professor of Law, has been elected as a new member of the American Law Institute (ALI), the leading independent U.S. organization producing scholarly work to clarify, modernize and otherwise improve the law. The newly elected membership of ALI consists of 38 highly-respected law professionals—including distinguished judges, lawyers and law professors from around the globe.
"It has been a challenging and unsettling few months for all of us," said ALI President David F. Levi, in a statement welcoming the Institute's new members. "Despite all of the uncertainty, the work of the Institute continues, and is perhaps needed now more than ever. It is with great pride that I welcome this newest group of superbly qualified members who are sure to provide unique insight to our Restatement, Principles, and Model Code projects."
"Jide's work in foreign relations and international law is beyond impressive and shows his dedication to better understanding the world around us," said former Law School Dean Kimberly A. Yuracko. "His work reflects the American Law Institute's mission to influence the development of the law in both existing and emerging areas, to give back to a profession to which they are deeply dedicated, and to contribute to the public good."
Nzelibe joined the Northwestern faculty in 2004 as an assistant professor before becoming a full-time professor in 2008. He specializes in international trade, foreign relations law, public and private international law and contracts. His article on the breakdown of international treaties was published in the Notre Dame Law Review in 2018. His latest article, "Can the Fourth Restatement of Foreign Relations Law Foster Legal Stability?", is to be published later this year in the book, The Restatement and Beyond: The Past, Present, and Future of U.S. Foreign Relations Law. Nzelibe has been a visiting professor at Harvard Law School and NYU School of Law. Prior to his time at Northwestern, he was a law clerk for the Honorable Stephen F. Williams in the U.S. Court of Appeals for the D.C. Circuit. He teaches contracts and international investment.
"I am honored to be elected a member of the American Law Institute (ALI), one of the country's most influential organizations working to shape legal reform," said Nzelibe. "I look forward to working with my Northwestern colleagues who are also ALI members to think creatively about ways to improve our laws." Nzelibe said his expertise in foreign relations is a subject he hopes to become more involved in at the Institute. "I was a participant in some of the discussions and debates that led to the recent amendments to the Restatement of Foreign Relations Law of the United States."
Nzelibe joins a long list of current Northwestern Law faculty who are a part of the American Law Institute. Other members include: Ronald J. Allen, Emily Kadens, Bruce A. Markell, James E. Pfander, Martin H. Redish, Daniel B. Rodriguez, Marshall Shapo, Matthew Spitzker, Deborah Tuerkheimer, and Kimberly A. Yuracko.