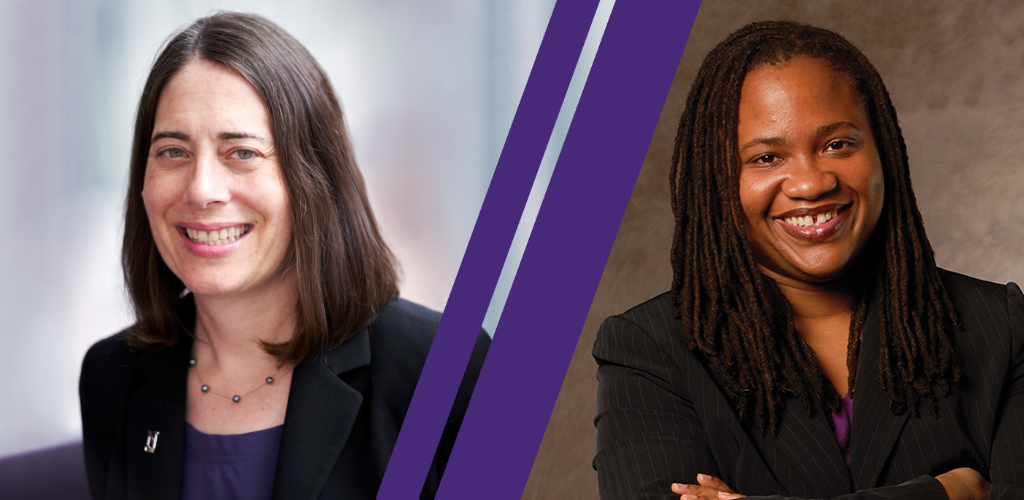 On September 10, Northwestern Pritzker School of Law installed Hari M. Osofsky as Dean and Myra James Bradwell Professor, and Robin Walker Sterling as the Mayer Brown – Robert A. Helman Professor of Law.
Northwestern University President Morton Schapiro and Provost Kathleen Hagerty led the proceedings, which included former deans Robert Bennett, Daniel B. Rodriguez, and Kimberly Yuracko and former interim dean James Speta. Both honorees gave impactful speeches as they officially stepped into their roles.
The ceremony focused on the Law School's longstanding strengths in innovation and social justice and its exciting next chapter of impact. President Schapiro emphasized the important role that Northwestern Pritzker Law plays in the University: "The Law School is a jewel in the Northwestern crown," he said. "Teaching is at the forefront, scholarship is unparalleled, and the dedication to public service is beyond compare. The future of this remarkable entity has never been better."
Hagerty, who introduced Osofsky, highlighted the new dean's extensive leadership and academic prowess. "From my earliest meetings with Hari, I was convinced that her dynamic leadership would further strengthen the Law School's reputation and foster a thriving and inclusive intellectual community," she said.
As Dean Osofsky addressed the attendees—who gathered both virtually and in-person at Lincoln Hall—she emphasized the importance of continuity and collaboration as the Law School advances innovation and social justice. "It is particularly meaningful to me that all of our former deans currently on our faculty were able to participate in today's celebration and that dean colleagues from other schools have joined us as well," she said. "As deans, we build upon the leadership and innovations of those who come before us and collaborate with current leaders to make a far greater impact in partnership than any of us could alone."
Moving the Law School forward is especially important now, Osofsky said. "Northwestern Pritzker School of Law, a longstanding leader in innovation with an extraordinary faculty, staff, students and alumni who are making a difference, has so much to contribute at this moment in which our society desperately needs that innovation," she explained. Dean Osofsky detailed initiatives that have been launched this fall, including learning from our COVID-19 pivots, developing additional concrete action on diversity equity and inclusion grounded in listening, conducting an inclusive search for our next Associate Dean of Diversity, Equity, Inclusion, and Engagement, engaging in strategic multi-year hiring, and building new partnerships and programs. "And this is just the beginning," she said. "We are a great law school with so much potential to make a difference."
Robin Walker Sterling, the Associate Dean for Clinical Education and the director of the Bluhm Legal Clinic, was permanently endowed as the Mayer Brown/Robert A. Helman Professor of Law. Walker Sterling spoke about her own childhood, and her time as a law student, as equally influential in her decision to pursue clinical work. She described a trip to Rikers Island in her 2L year, specifically. "It was the first time I visited prison. [I] knew the statistics about mass incarceration, but it was different seeing it up close," she said. "Every single person in that prison, every single person, was black or brown. And it was a lot to process." That was a turning point, she said, and opened her eyes to the importance of clinical education. "Everything I like best about being a lawyer, I learned from my clinic."
She also cited Frederick Douglass's famed quote from his "West India Emancipation" speech: "If there is no struggle, there is no progress." Walker Sterling says it's a message that informs her Clinic work every day. "Because struggle is necessary, courage becomes an everyday practice," she says. "You've got to run to the struggle. You can't shy away from it."
More information on the Law School's faculty chairs can be found here.