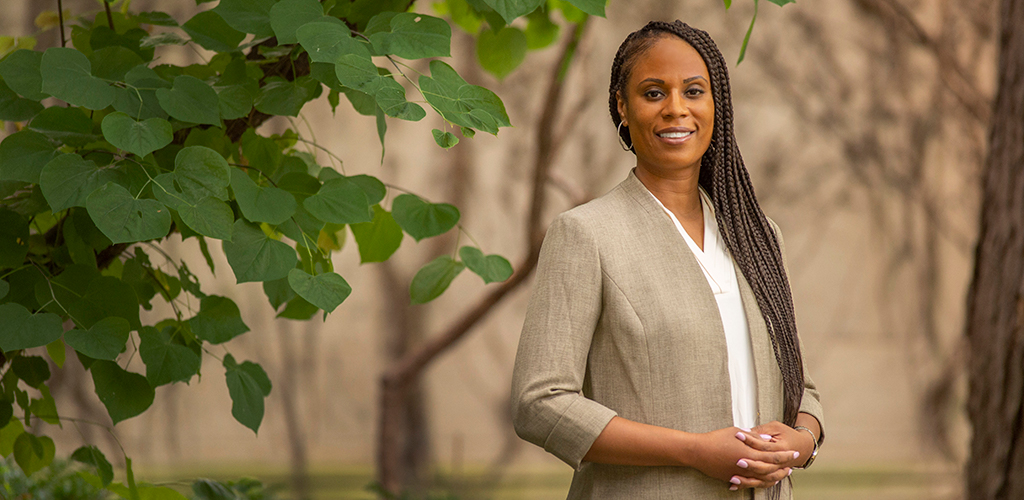 On November 16, Northwestern Pritzker School of Law launched the Center for Racial and Disability Justice (CRDJ). Under the leadership of Jamelia Morgan, professor of law, the Center will promote justice for people of color, people with disabilities, and individuals at the intersection of both identities. During the launch event, Professor Morgan and Dean Hari Osofsky discussed the parallels between racial and disability justice, why intersectional approaches are important, and the mission of the CRDJ.
Professor Morgan first got into disability advocacy when she was studying at Yale Law School. She did clinic work in her second year, which involved advocating on behalf of incarcerated individuals at a state maximum facility in Connecticut. After speaking with them, she noticed many of them had the same story. "Many of those men had disabilities," she said. "I think we know about racism in the criminal legal system because of lived experience. I wasn't aware of the disability lens until I started talking to people."
The CRDJ will address social problems including poverty, lack of affordable and accessible housing, voter suppression, unequal educational opportunities, unemployment, unequal access to affordable and quality health care, criminalization and policing. "Although we might think about these issues as primarily issues of racial discrimination, they're also issues that reveal the problems of disability discrimination," Professor Morgan said.
"We are grateful to Professor Morgan for her vision and leadership in establishing the Center for Racial and Disability Justice and excited about the impact it will have," Dean Osofsky said. "Under Professor Morgan's leadership, the Center will focus on pressing social justice issues affecting the lives of disabled people of color, women with disabilities, LGBTQIA+ disabled people, and low-income disabled people."
Professor Morgan noted that their mission is simple—to promote justice for people with disabilities, people of color and people at the intersection—but it's intentionally broad so the Center can grow as needs change. "In our first year we will focus primarily on the criminal legal system, healthcare discrimination, and access to the courts," she said. "We envision ourselves as providing a hub of research, data, and support for the existing organizers and advocates that are thinking about these issues."
She spoke on intersectionality, a term coined by Dr. Kimberlé Crenshaw, a civil rights advocate and leading scholar in critical race theory, and how it will inform the Center's research. "It's a way of looking at social problems and developing a set of inclusive remedies that don't marginalize individuals who have multiple identities who are experiencing harm from multiple systems," she said. "People have intersectional identities and they're experiencing overlapping forms of oppression."
Many academics and community organizers throughout the country have dedicated years to disability work, something Professor Morgan doesn't take for granted. She highlighted Shira Wakchlag and Leigh Ann Davis, senior director of legal advocacy and senior director of criminal justice initiatives at The Arc Organization; and Dr. Nicolas Lawson, a disability advocate. "We want to support practioners, law students, policy makers, and researchers [who] want to think through these issues, through funding and support," she said. "We want to be a hub for public engagement and education here at the Law school and in the great city of Chicago."
The work of the CRDJ will be collaborative and interdisciplinary—a necessity in the eyes of its leader. "The Center will be as successful as the community organizations that we connect with," Professor Morgan said. "Our terrific [Bluhm Legal] Clinic, they're doing incredible work, and one of the goals of the Center is to connect and partner with the policy advocacy that they are doing."
Professor Morgan is touched by the support that she has already received from the Northwestern Pritzker Law community. "We wouldn't have a center without our incredibly engaged community," she said. "Our alumni, our donors, our incredible staff, my colleagues here on the faculty, and our students. It's going to be vitally important for us to connect."
As the Center grows and evolves, Professor Morgan hopes its mere existence helps people re-evaluate how they view people with disabilities and the issues surrounding them. "Awareness as an educator is key," she said. "I want people to think critically about some of our social problems of the day, and think about that from their vantage point, how they can plug in and support the existing work. For students [who are] interested in these topics or being change agents in the world, [ask yourself] how to incorporate ways of thinking about race and disability discrimination into the work that [you're] doing."
For more information on the Center, take a moment to watch this video of Professor Morgan discussing her work, or visit the CRDJ website. If you missed the launch event, watch it in full here.