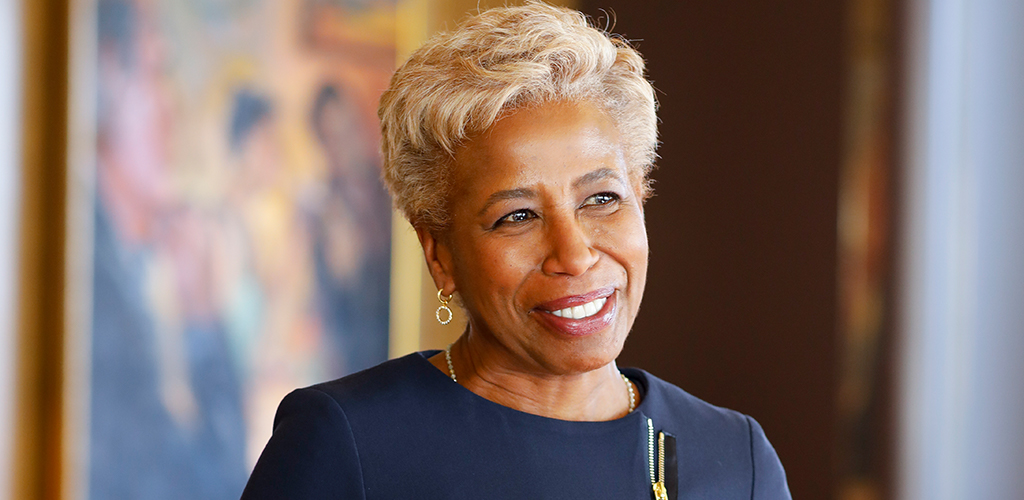 Northwestern Pritzker School of Law is thrilled to welcome Sharon Y. Bowen (JD-MBA '82), Director of the Intercontinental Exchange and former Commissioner of the Commodity Futures Trading Commission, to deliver the main convocation address to the Class of 2018. Convocation will be held Friday, May 11 at 1:30 p.m. at the Chicago Theatre, 175 N. State St., in Chicago.
Bowen was the first African-American to be appointed as Commissioner of the U.S. Commodity Futures Trading Commission. She was sworn in on June 9, 2014 and served in the CFTC until 2017.
In the aftermath of the 2008 financial crisis, one of the main responsibilities of the CFTC was reforming the $400 trillion unregulated swaps market with regulatory oversight. While Commissioner, Bowen served as a sponsor of the CFTC Market Risk Advisory Committee (MRAC), an advisory committee established under her leadership in 2015. MRAC held eight public meetings which addressed significant market risk and market structure issues including cybersecurity, market liquidity, portfolio compression, and inter-regulatory cooperation in central counterparty (CCP) resolution.
Prior to her role in the CFTC, Bowen was confirmed by the U.S. Senate and appointed by President Obama to serve as Vice Chair and Acting Chair of the Securities Investor Protection Corporation (SIPC). Previous to her work in the Obama administration, Bowen had a renowned three-decade career in corporate and transactional law as an associate at Davis, Polk & Wardwell and later as an associate and then partner at Latham & Watkins.
Bowen has served as a member of the Board and Emeritus Board of New York Lawyers for the Public Interest, Inc., the Boards of New York City Economic Development Corporation, and Public Education Needs Civil Involvement in Learning (PENCIL). She is also a recipient of the 2011 Diversity Trailblazer Award of the New York State Bar Association and was selected as the New York City Bar Association 2007 Diversity Champion and the Metropolitan Black Bar Association 2006 Lawyer of the Year.
Bowen holds a BA in Economics from the University of Virginia and a JD-MBA from Northwestern University. During her time at Northwestern Law, she served as Managing Editor of the The Northwestern Journal of International Law and Business. Bowen has also served as a former Executive Member and Chair of the Law School Board.
Additional information on graduation week events can be found on the Convocation page.