Professor Shari Diamond Examines the Interplay of Science and the Law
04.25.2019
Scholarship
Faculty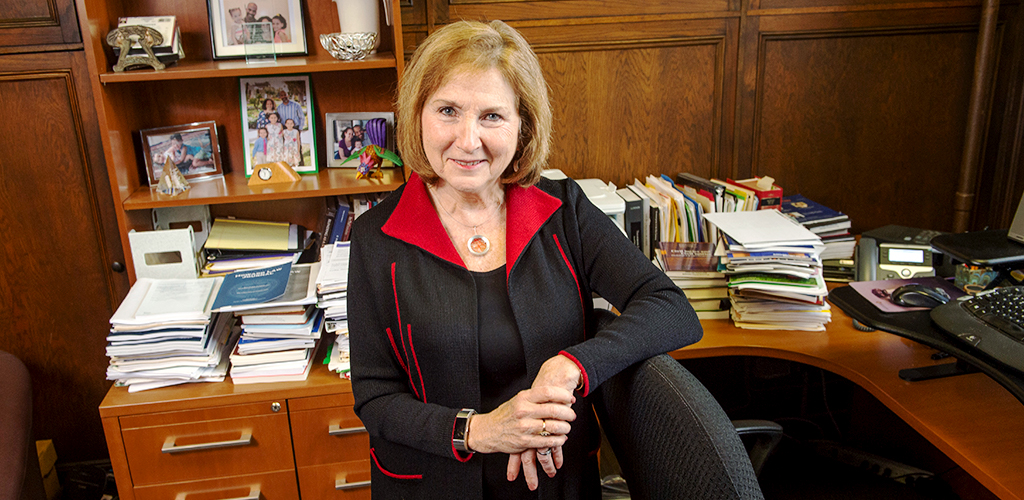 Attorneys and judges are not the only important actors in the U.S. legal system. Laypersons and experts also play key roles. Important questions about how these groups — most notably juries and scientific experts — interact with the legal system have long been at the heart of Shari Diamond's research. How do juries reach decisions? How can scientific evidence best be communicated to triers of fact? What would make knowledgeable scientific experts more inclined to assist in legal proceedings? "Science & the Legal System" was the focus of the Fall 2018 issue of Daedalus, Journal of the American Academy of Arts and Sciences, which Diamond co-edited.
An attorney and social psychologist, Shari Seidman Diamond, Howard J. Trienens Professor of Law and a research professor at the American Bar Foundation, was inducted into the American Academy of Arts and Sciences (Academy) in 2012. The Academy, founded in 1780, is one of the oldest learned societies in the country, with an elected membership of distinguished thinkers from a wide range of disciplines. Diamond, who has been teaching at Northwestern Law since 1999, is one of the faculty's most-cited scholars, and is perhaps best-known for her scholarship related to jury decision-making. Her scholarly writing has been cited by the U.S. Supreme Court and she has conducted unique research studying the behavior of jurors during actual civil jury deliberations. "The deliberations project, more than anything else, has convinced me of the importance of what happens in the jury room," she says.
More recently, Diamond has turned her attention to another aspect of legal decision-making: the intersection between science and the legal system. "I had been dismayed by questionable claims of scientific expertise I'd seen in court, and also in the cases I read for my Scientific Evidence course," she says. In a meeting with former Academy President Jonathan Fanton, Diamond suggested that the members of the Academy would be an excellent group to help her tackle some of the questions about the interactions between scientists and the legal system. "Members of the Academy include distinguished scientists and engineers, and so I wondered, are they regularly being asked to provide relevant evidence for resolving legal disputes? Are they willing to engage? What are their interactions with the legal system overall and their reactions to those interactions?"
These questions were also informed by Diamond's own experience as an expert witness — she has testified about deceptive advertising and survey research in trademark cases. "I wanted to understand whether there were problems not just with getting researchers to participate in hearings, but also in making what they present in the legal system more understandable to the decision-makers, both judges and jurors."
Her interest in this topic coincided with an initiative the Academy was launching on the public face of science, and so Diamond received support to start working on what would become a Daedalus issue with contributions from top legal and scientific minds, including an article that she wrote with her co-editor of the issue, Richard O. Lempert, Eric Stein Distinguished University Professor of Law and Sociology, emeritus, at the University of Michigan.
In working on a journal issue about the interplay of science and the legal system — "two fields [that] are in many ways culturally distinct," the editors write — Diamond and Lempert were determined from the outset to weave the two disciplines together. "We wanted to cover the range of issues that science and the legal system were grappling with, and we also wanted to have the articles written, whenever possible, by pairs of scientists and legal scholars," Diamond says. Those pairs included Jed S. Rakoff, senior United States district judge of the United States District Court for the Southern District of New York, and Elizabeth Loftus, one of the nation's leading experts on human memory and distinguished professor of psychological science and the law at University of California, Irvine School of Law, who wrote "The Intractability of Inaccurate Eyewitness Identification;" and Daniel Rubinfeld, professor of law at NYU Law School, and Joe Cecil, senior research associate and project director in the division of research at the Federal Judicial Center, who wrote about the challenges that scientific evidence pose for judges and juries. These interdisciplinary pairings were especially important because promoting mutual understanding across the science-law divide could be a first step toward progress. "A greater appreciation for the other culture could go a long way," Diamond says.
In their own article, "When Law Calls, Does Science Answer? A Survey of Distinguished Scientists and Engineers," Diamond and Lempert describe the results of a survey conducted with the cooperation of the Academy, which questioned distinguished scientists and engineers about their views of the legal system, including what motivates them to participate (or not) in lawsuits when asked, and their experiences when they do. While the majority of the 366 experts they surveyed had been asked at some point to serve as expert witnesses, and most of them agreed to do so at least once, some expressed doubts about legal procedures and responded positively to suggested changes, including presenting opposing expert testimonies back to back during trials, or having opposing experts produce a joint report calling out areas of agreement and disagreement. Scientific evidence is complicated, after all, and non-scientists — whether judges or jurors — often find it challenging to understand and apply.
"My particular interest right now is in enabling opposing experts to clarify the issues of disagreement between them," Diamond says. "Why should the decision-makers — the judges and jurors — have to sort through completely different presentations often separated by days of other testimony? Why can't some greater effort be made to identify their areas of agreement and disagreement? A good attorney who is well-prepared can help with that, but structurally our procedures tend to undermine direct engagement by putting expert presentations in separate silos. That approach is not productive if you are trying to come up with informed answers."
Doing the research and creating the edited issue gave her a multi-year opportunity to think hard about the variety of interactions between law and science on topics ranging from fingerprints to solitary confinement. "Fortunately, with the Academy's help, we were able to enlist precisely the authors we wanted and to meet with them at the Academy in Cambridge in the summer of 2017 to discuss first drafts. We then spent the next year editing." The result is a collection of articles that Diamond sees as a strong step to bridging the law-science divide. "We raised timely issues that affect cases being heard in courtrooms around the country," she says. "But we also provided some real reason for optimism about the future relationship between science and law."