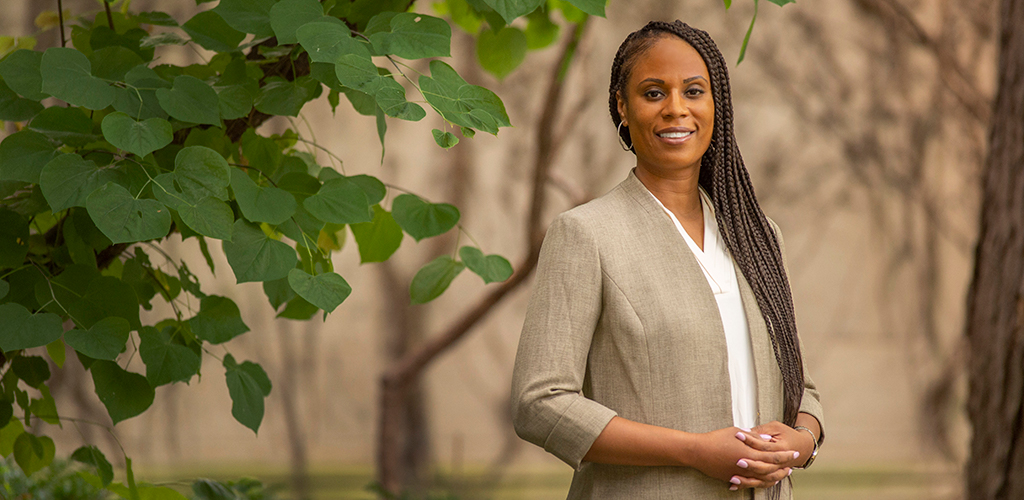 Jamelia Morgan, professor of law and director of the Center for Racial and Disability Justice, has been selected as the recipient of the 2022 Deborah L. Rhode Award, a joint recognition by four sections of the Association of American Law Schools (AALS). She will receive the honor at the AALS Annual Meeting in San Diego, California on January 5, 2023.
The Deborah L. Rhode Award is presented by the AALS Sections on Leadership, Pro Bono & Service Opportunities, Professional Responsibility, and Women in Legal Education. It is awarded annually to the law professor or lawyer who exemplifies the groundbreaking work, imagination, and inspired action of Deborah Rhode, who died in January 2021 after an illustrious career in law. Rhode was the Ernest W. McFarland Professor of Law and director of the Center on the Legal Profession at Stanford Law School.
"It is a tremendous honor to receive the Deborah Rhode Award," Professor Morgan said. "Professor Rhode was a giant in the legal field and her groundbreaking work inspires me as a legal scholar to use my scholarship to push for justice for groups long-marginalized by law."
Morgan shares the honor with Maryam Ahranjani, Ronald and Susan Friedman Professor at University of New Mexico School of Law.
"Professors Ahranjani and Morgan are trailblazers who exemplify Professor Rhode's commitment to legal education and the legal profession," Elysa Dishman, chair of the award selection committee and associate professor at Brigham Young University J. Reuben Clark Law School, said in an AALS press release. "The Selection Committee received many compelling nominations in support of an array of legal educators who carry on Professor Rhode's legacy. This year, the Selection Committee was unanimous in choosing Professors Ahranjani and Morgan for the award and believe they will continue to build upon Deborah Rhode's work in new and exciting ways to benefit the legal academy and profession."
Morgan joined the Northwestern Pritzker School of Law faculty in the fall. She is an award-winning scholar and teacher focusing on issues at the intersections of race, gender, disability, and criminal law and punishment. Her scholarship and teaching examine the development of disability as a legal category in American law, disability and policing, overcriminalization and the regulation of physical and social disorder, and the constitutional dimensions of the criminalization of status.
"Many congratulations to Professor Jamelia Morgan on receiving the Deborah L. Rhode Award," Dean Hari Osofsky said. "This is such a well-deserved recognition of her incredibly important contributions to scholarship and public policy on race, disability, gender, and criminal law. Her impactful work embodies 'the groundbreaking work, imagination, and inspired action of Deborah Rhode' that the award recognizes."
The AALS, founded in 1900, is a nonprofit association of 176 member and 19 fee-paid law schools. Its members enroll most of the nation's law students and produce the majority of the country's lawyers and judges, as well as many of its lawmakers. The mission of AALS is to uphold and advance excellence in legal education. In support of this mission, AALS promotes the core values of excellence in teaching and scholarship, academic freedom, and diversity, including diversity of backgrounds and viewpoints, while seeking to improve the legal profession, to foster justice, and to serve local, national and international communities.