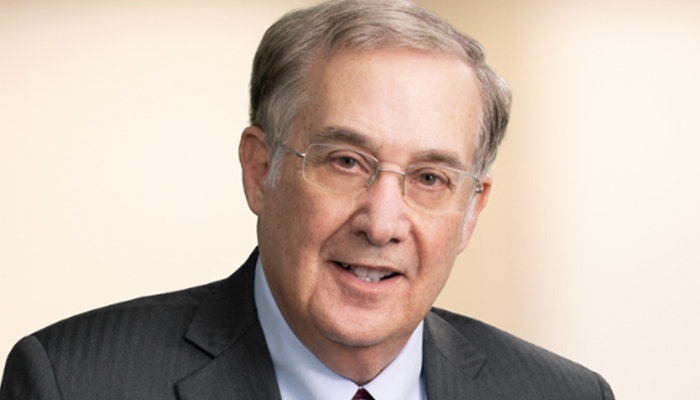 Martin Redish, Louis and Harriet Ancel Professor of Law and Public Policy, will receive the 2021 Daniel J. Meltzer Award from the Association of American Law Schools. The AALS Section on Federal Courts established the award in 2017, which is designed to honor the life and work of the late Daniel J. Meltzer, the former Story Professor of Law at Harvard Law School.
"Professor Martin H. Redish is a pathbreaking scholar and award-winning teacher whose contributions to the field of Federal Courts exemplifies the excellence of the life and work of Professor Daniel J. Meltzer," the AALS selection committee said in an official statement. "Professor Redish is one of the most-cited legal scholars and one of the United States' leading experts on constitutional law and the federal courts. His work, which has been cited 22 times in Supreme Court opinions, includes Wholesale Justice: Constitutional Democracy and the Problem of the Class Action Lawsuit as well as Moore's Federal Practice. A former clerk to Judge J. Joseph Smith, Professor Redish has testified before Congress on issues relating to federal jurisdiction and class actions and has made frequent appearances in national media, including the New York Times, The Wall Street Journal, CNN, and National Public Radio. Professor Redish's students have honored his excellence in teaching through multiple awards, including the Robert Childress Memorial Award for Teaching Excellence."
Redish will be honored at the 114th AALS Annual Meeting in January, which will be held virtually. "Winning the Meltzer Award is one of the greatest accomplishments in my scholarly career," says Redish. "It represents recognition by my peers of my career-long devotion to writing and teaching about the federal courts and their role in our constitutional system. The three other scholars who have received the award since its creation in 2017 are the true giants in the field; I am honored to be included among them. And I could never have achieved such success without the strong support provided to me by the deans, faculty, students and staff of Northwestern Pritzker School of Law during my many years here."
The Meltzer Award recognizes a professor of Federal Courts who has exemplified over the course of their career Professor Meltzer's excellence in teaching, careful and ground-breaking scholarship, engagement in issues of public importance, generosity as a colleague, and overall contribution to the field of Federal Courts. In Redish's decades-long career, he has done just that — inspiring many students who have gone on to do great things. Howard Wasserman, professor of law at Florida International University College of Law, is one of those Northwestern Law alumni. "I am fortunate and honored to be among those to follow Marty into the legal academy in the fields of Federal Courts, Civil Procedure, and the First Amendment," says Wasserman, who nominated Redish for the award. "Marty has been an inspiration, a guide, and a support at each stage of my education and legal career. I attempt to work each day by the examples he set—scholarly rigor, readable and engaging communication, inspiring and caring teaching, and intellectual honesty."
Redish received his AB with highest honors in political science from the University of Pennsylvania and his JD magna cum laude from Harvard Law School. He has regularly been included in Heinonline's top 25 most cited legal scholars of all time, and has won teaching awards at both Northwestern and the University of Michigan Law Schools.
At Northwestern, Professor Redish teaches civil procedure, constitutional law, and federal jurisdiction. He has also been a part of the supervising faculty for the James A. Rahl/Owen L. Coon Senior Research Program for many academic years and has been a huge advocate of the program — which has been a part of the fabric of Northwestern since the late 1960s.