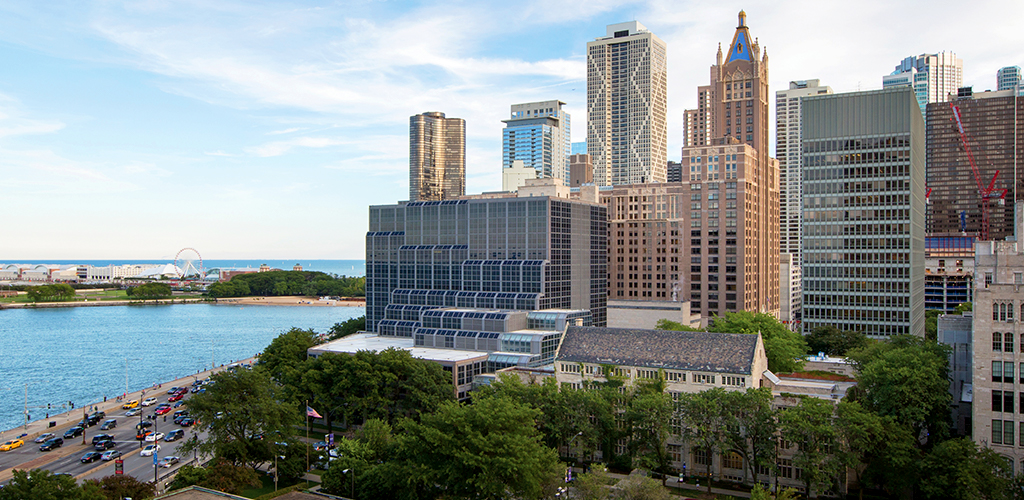 Welcome to Chicago! You can probably tell you're going to love it here, but the city is big and you may not know where to start. Let us help—here's a quick guide to your new home-base: Streeterville. Just steps from the Law School is everything you need to study, relax, grab a bite, and start taking advantage of the Windy City. (And don't forget to bring your WildCard along for discounts at plenty of neighborhood spots!)
Study
The Law School is full of great places to study—the library, the atrium, Harry's Café. But when you need a change of pace, Streeterville's got just the place: Dollop. With floor-to-ceiling windows, great people watching, and delicious coffees, pastries, and sandwiches, it's just the change of pace you need. 345 E. Ohio St.
Relax
CHILL is the perfect spot to clear your head. Chill's modern, guided meditation is incense-free and beginner-friendly. While you're there, get a massage, shop their curated relaxation products, unwind in their swinging chairs, or take a yoga class. 222 W. Kinzie St.
Eat
It's a great time to be in Streeterville, restaurants are popping up everywhere! We have not one, but two, coveted donut shops: Do Rite Donuts (don't miss Do Rite's legendary chicken sandwich at lunchtime!) and Stan's Donuts. Got a group for brunch? Check out Yolk. And Beatrix has that new American, farm-to-table, vibe that's sure to impress all your out-of-town visitors. Stan's: 259 E. Erie St.; Do Rite: 233 E. Erie St.; Yolk: 355 E. Ohio St.; Beatrix: 671 N. St. Clair St.
Socialize
You're ready to cut loose after a long week of studying. Head to Timmy O'Toole's, just a few blocks from the Law School. It's a hang out not only for Northwestern Law students, but also medical students and busy professionals. On Wednesday nights, check out Comedians You Should Know, one of the best comedy shows in the city. 622 N. Fairbanks Ct.
Exercise
The Law School is steps from the lakefront path, which (unless it's buried in snow) is a great place for a run or bike ride. If you prefer hitting the gym or trying out classes, we've got that too. Studio Three has interval, cycling and yoga classes. Prefer barre? Pure Barre Streeterville offers the first week of classes free. And don't worry, yogis, you can do your downward dogs at Corepower, right around the corner. Studio Three: 648 N. Clark St.; Pure Barre: 319 E. Ontario St., Corepower: 227 E. Ontario St.