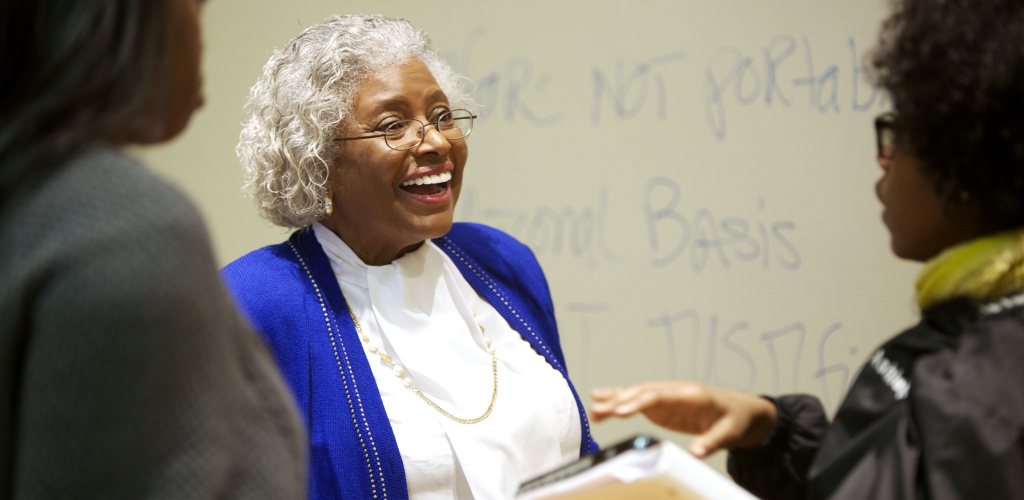 Joyce A. Hughes, professor of law, has been selected by the American Bar Association Commission on Women in the Profession as one of the 2021 Margaret Brent Award recipients. Professor Hughes will be presented the award virtually on Thursday, August 5th.
The prestigious award honors the legacy of Margaret Brent, the first woman lawyer in America, by annually recognizing five outstanding women "who have achieved professional excellence and paved the way for other women in the legal profession," according to the ABA.
"Professor Hughes is a role model and a true inspiration for countless law students," said Interim Dean James Speta. "Since her early years as a law student, Professor Hughes has been a trailblazer. When she received her J.D. degree in 1965 from the University of Minnesota Law School, she was the first Black woman to do so. She was the first woman and first African American to serve as a law clerk in the federal district court in Minnesota; in fact, it is believed she was the first in any of the country's federal district courts. She later went on to teach at the University of Minnesota as the first Black woman to be hired as a tenure track professor at any majority white institution."
"In spite of being both Black and female, I am honored the award commemorates my influence as a trailblazer in law," says Hughes. "The award should be seen as recognizing the first woman law professor in the country, Lutie Lytle, a Black woman who taught at a Black law school in 1897. It also acknowledges the first Black woman to be a tenured law professor, Sybil Jones Dedmond, who taught at a Black law school 20 years before I started at a white law school."
Professor Hughes joined the Northwestern Law faculty in 1975. In 1979, she became the first Black woman to be tenured in any department at the University. She is an inductee in the Cook County Bar Association Hall of Fame and was honored as a legal luminary by the Chicago Chapter of the American Constitution Society.