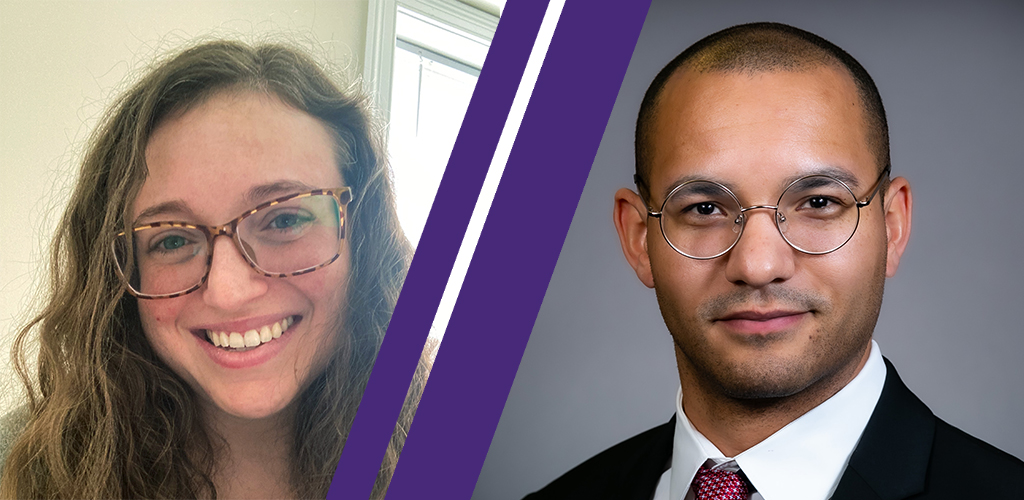 The veteran community at Northwestern Pritzker Law is as diverse as the student body, with veterans of various backgrounds and branches of the armed forces. But student veterans share a common experience that, for many, offers a sense of connection and support as they navigate law school. This week, to coincide with Veterans Day, the Veterans Law Association is hosting VLA Week, with a keynote from Marine Corps veteran Judge John J. Tharp Jr. (JD '90) of the U.S. District Court for the Northern District of Illinois. Here, VLA President Michelle Hunt (JD '22) and Vice President Peter Scheyer (JD '22) discuss how their military experience prepared them for law school, the strength of Northwestern Pritzker Law's veteran community, and their advice for vets considering a career in law.
MICHELLE HUNT (JD '22)
President, Northwestern Veterans Law Association
Cryptologic Technician – Interpretive, Navy
How did your time in the military prepare you for law school?
My time in the military made me realize that I can do hard things. When I first graduated college, I didn't have the same self-esteem and confidence in myself that I do now. But joining the military and learning Arabic from scratch really helped me understand that I had the mettle to persevere even when things were difficult.
The military also taught me how to work with other people and how to compromise with those with all different perspectives. The military accepts people from all corners of the country, and all backgrounds, so you have to learn very quickly to work positively with people who you may not have otherwise had the opportunity to work with. That's an experience you may not necessarily get when you stay in your hometown.
What about for a career in the law?
In the military, you work with a mission in mind. That's not dissimilar to a career in legal advocacy—you're committed to a particular mission. That service-oriented, mission-oriented, customer-oriented thinking helps veterans excel.
My job as a linguist in the military also involved a lot of detailed, though repetitive, intellectual thinking. You have to pay attention to every detail because missing something can mean bad news for your shipmates or your fellow service members, and, as a lawyer, missing a detail can could mean bad news for your client and your coworkers.
What makes Northwestern Law an especially good community for veterans?
I really wanted to go to Northwestern because I knew it had a reputation for having an older matriculating class, and that people come to Northwestern Law oftentimes after they've had at least one job. Of course, some of the best friends I've made came straight from university, but I think the environment of more experienced students engenders at Northwestern a sense of maturity, a sense of collegiality and a sense of taking work seriously while not taking ourselves too seriously.
How does the veteran community support each other at Northwestern Law?
It's important to remember that you are not the only one out there who is experiencing law school in a particular way. The veterans at the law school have all had different experiences, but we've shared some as well. We've all been through boot camp, we've all had to work with particular chains of command, we've all had to stand watch. So in that way we can relate to each other's experiences, even if they aren't exactly the same.
As the president of the VLA, I am also trying to be inclusive and open our community to military spouses and to veteran students in our MSL program. One of my mentors who is appearing on a VLA week panel is a military spouse who has created a career working as an attorney for the federal government, and talking with her has opened my eyes to what military spouses go through. So we want our VLA community to be inclusive of the entire veteran community and to better serve and support each other.
And finally, I've been able to connect with veterans and alumni veterans who are attorneys, and even set up events so they can talk to the wider community. There's definitely a sense of veterans wanting to support each other.
What advice would you give veterans considering law school?
I would say that as long as you are prepared for a career where you are continuing to serve, whether it's serving private clients or even serving a local, state, or federal government, don't hesitate. Do it. You can do it.
PETER SCHEYER (JD '22)
Vice President, Northwestern Veterans Law Association
Cybersecurity Technician, Air Force
How did your time in the military prepare you for Law School?
Law school is surprisingly like basic training sometimes—not in that you have somebody following you around yelling at you, but in that you hold yourself to the same high standards that the instructors do, sometimes you end up sleep deprived, and it's grueling. It's a long experience. But having gone through basic training, and knowing you'll survive and come out the other end is actually really helpful, and it was a great preparation for law school. All my friends will tell you that I was the first to say, "Yeah, we'll make it," when things got really bad.
Are there any ways in which veterans might be uniquely qualified for a career in law?
One of the obvious ways is that we have some experience with federal agencies and the federal government. That's actually been pretty useful in examining things like administrative law. We have experience with handling bureaucracies and the realism of filing an appeal. I didn't even think of that until I took Legislation last year, but then we started talking about some appeals process, and I was like, "No, no, no. Let me tell you about appeals processes with the federal government," and I realized that a good chunk of my time in the military was spent navigating appeals processes with the federal government.
What are some ways that veterans contribute to the larger Northwestern Law community?
I think my classmates believe that veterans are a bit of a grounding presence. They benefit from having people around who are as calm as one can reasonably be amidst the rigors of law school.

As a veteran, I've also been able to offer my experience and insight to administration or faculty when it's helpful. I worked in disaster relief with an organization comprised mainly of veterans, and the Law School administration reached out to me as they were thinking through their pandemic response. They just asked: "Is there anything, from your past experience, that we should be thinking about?" Of course, they have a job to do and I'm a full-time law student, so I'm not in the room where the decision-making is happening, but I thought it was amazing that they considered a student's skills in that way, and I'm not sure that would happen at many universities.
Why is the VLA such an important organization?
Most of the affinity groups and student organizations at the Law School are based on people's interests in the future, or on who they are as a person, which is something that won't change and will come with them as they move forward. But the Veterans Law Association helps you connect with those in the law community who have gone through a similar past experience. The VLA lets you reach back into your pre-law-school life and carry it forward with you as you graduate.
What advice would you give a veteran who is considering law school?
Trust yourself. These are big decisions and they're tough. And once you're in law school, they aren't going to get less tough. After you graduate, you could be advising clients on million-dollar decisions. But one of the things that veterans bring to these conversations is that we've dealt with really high-stakes stuff before. So trusting your judgment is really important.