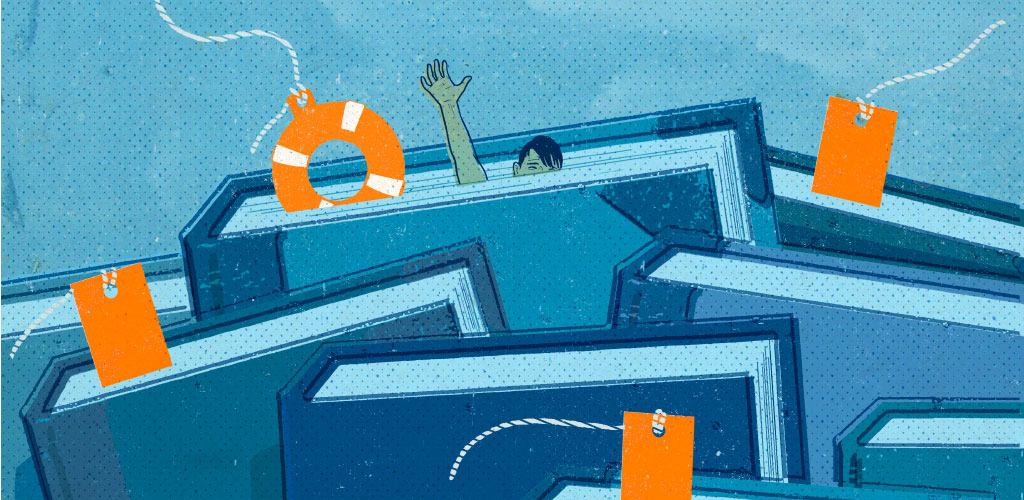 "Mister Hart, here is a dime. Call your mother. Tell her there is serious doubt about you becoming a lawyer."
The Paper Chase, the 1973 film with iconic scenes of demeaning professors and classmates pitted against each other, is entertainment that depicts a dark truth: for some individuals, the stresses of law school (and the legal profession) can lead to depression, anxiety, substance abuse, and worse.
In 2016, the American Bar Association partnered with the Hazelden Betty Ford Foundation to study the rates of substance use and other mental health concerns among lawyers. Its findings were harrowing: 28 percent of attorneys struggled with mild or higher levels of depression, 19 percent showed symptoms of anxiety, and 23 percent admitted to feelings of stress. Looking over the course of a lawyer's career, the numbers are even more striking. A full 61 percent reported concerns with anxiety at some point in their career, and 46 percent reported issues with depression.
The following year, as a response to these findings, the National Task Force on Lawyer Well-Being issued a report of practical recommendations for positive change. In July 2018, the Chicago Bar Association (CBA) created a new wellness committee, while student leaders at top law schools around the country, including Northwestern, issued a letter pledging more mental health support. "Improving wellness and advancing legal education are synchronized interests; by promoting one, we promote the other," wrote the student leaders. "Addressing mental health issues today within our communities will not only make us happier and healthier individuals, but also better students and members of the legal profession."
Starting the conversation
Northwestern Law, like all law schools, is certainly demanding. But the administration works hard to minimize the culture of competition that's so often a source of student stress. "When I was in law school, The Paper Chase stories never came to fruition — people were totally supportive and happy to help," says Kevin Agnew (JD '07), adjunct professor in the Center on Negotiation and Mediation. That's still the case today, he says. "The school wants students to feel healthy; there's not an atmosphere of hypercompetitiveness."
Each year, during new student orientation, Sean Serluco, a Counseling and Psychological Services (CAPS) liaison dedicated to the Law School, tells students how they can take advantage of the services it provides, including individual therapy in consultation with faculty and administration. Along with Susan Spies Roth (JD '06), associate dean and dean of students, Serluco helps debunk myths that could deter students from utilizing psychological services. They may be worried, for instance, that seeking help could become an issue with the "character and fitness" part of the bar exam. "Students might think, 'If I go to CAPS, I'm not going to be admitted [to the bar].' But that couldn't be further from the truth," Roth says, noting that most jurisdictions don't ask about mental health at all, or ask only whether an individual has a mental health issue that will impede their ability to practice law. Her anecdotal observation: "If you meet 10 lawyers, nine of them have been or are currently in therapy."
While CAPS offers ongoing counseling, it also hosts Let's Talk sessions, where students can drop in for an informal consultation and get referrals to local mental health providers with whom "they can stay connected as they transition into law practice," Roth says.
Shannon Bartlett, associate dean of inclusion and engagement, helps ensure that minority students are aware of the counseling available for issues unique to them, like microaggressions or stereotype threat. "We try to normalize help-seeking behavior and help students realize that these are things we all struggle with, whether you're a 1L or a 40-something in a senior role," says Bartlett. She notes that members of certain minority or international communities don't always embrace mental health resources. "Historically, people who were providing those resources weren't well-versed in the specific experiences of members from marginalized or under-represented communities," she says.
Melissa Moreno (JD '19), the 2017–2018 Student Bar Association President who signed the open letter from law school leaders, praises the school's increased emphasis on de-stigmatizing discussions about mental health and proactively connecting students with help. "The administration is making sure that the work doesn't just fall on students," she says.
Strength in numbers
As the founder and co- president of the Students Mental Health Alliance (SMHA), Luke Finn (JD '20) educates his fellow students about the resources available to them, including faculty-led mindfulness sessions, relaxation apps like Mindspace and Breathe, and the ever-popular pet study break. ("Go relieve pre-finals stress by spending time with some animals who won't judge you!" reads a November email from the SMHA.)
Finn has extensive experience in high-stress workplaces, including spending 18 months in combat zones while working with human rights activists in rural Colombia. When he returned to his home in East London, he endured a "breakdown," he says. "I needed to learn about mental health and take it seriously. I was coming from this working-class masculine background where to talk about mental health was very suspect, but I was at the point where I felt like, 'This is the only way.'"
With the help of mental health professionals, Finn learned self-care techniques he describes as "life-changing," so he was excited to share them with his classmates. "In law school, the people in your class are a community. You look out for one another," he says.
One of the biggest struggles facing new law students, Finn says, is isolation. "You come in and you don't have any friends, and you have this idea that everyone around you is your competitor. So it's scary to say, 'I have no idea what's going on.'" But when he founded the SMHA his first year, "the moment it was set up we were overwhelmed with applications." The SMHA also partnered with the Illinois Lawyers Assistance Program (LAP), in hopes of empowering students to help themselves after they graduate.
Change is coming
Some critics claim the newfound attention to lawyer well-being is a Band-Aid for a larger issue within the field. Taking a perfunctory CLE course on mental well-being won't make a difference when there are hours to bill, they say while decrying today's law students and young lawyers as wimps. "Young people get a lot of flak for being snowflakes or too sensitive," says Bartlett. "But when you look at the stats, for decades [the legal community has] had one of the highest rates of substance abuse and depression. That isn't just young people. That's throughout the profession, people of all different ages."
Left unaddressed, certain aspects of the profession, including student debt, could continue to cause anxiety and pressure. Compared to when she was in law school, Bartlett says the market has changed considerably. "There is a lot of pressure on [students] to get the best grades they can because there are fewer positions available." She has seen students graduate carrying $200,000 in student debt. "That's an incredible burden to bear," she says. "Particularly if you're worried about job placement. It's not just 'I got a bad grade in this class.'"
Then there this is the stress about the stress. "I see it with my students all the time," says Agnew. "The expectation that law school is going to be stressful is a self-fulfilling prophecy."
And sometimes the stress is warranted. "Some of the biggest anxiety I had was about pro bono cases because the stakes felt so much higher. Someone could get the death penalty," says Bartlett. "I would wake up in the middle of the night, thinking, 'Oh my God. Was the font in the footnotes right? And what if it's not and my brief gets kicked and my client stays in prison for something they didn't do because I didn't do my job right?'"
Bartlett points out that by nature, high-achieving students like those at Northwestern Law are in the school partially because of their relationship with stress. "You don't get into elite law schools like Northwestern Law unless you're motivated by a certain level of anxiety," she says. "You want to do well, and put your best foot forward. But what can also happen is that the anxiety strays from being healthy and motivating and you can become paralyzed."
But Bartlett sees change on the horizon. "The thing I really respect about young people today is a willingness to say 'We're not going to do it this way,'" she says. Take, for example, the increasing number of fathers who want to be more present in their children's lives. Legal employers are being forced to adapt accordingly, since more and more young attorneys are realizing they have options.
Agnew, a career coach at Kirkland & Ellis, says that firms are increasingly realizing that a positive, less cut-throat atmosphere is necessary to retain and nurture top legal talent. "There's a much clearer link between fostering a more positive work environment and the results it has on productivity and engagement," says Jonathan Beitner, who chairs the CBA's Mindfulness Committee and helped develop the CBA's Wellness Committee. In what he describes as "the golden age of neuroscience," his group harnesses knowledge about bigger issues like depression and addiction and uses it to address some of lawyers' most pressing stressors, like the anxiety of networking or the demands of clients.
At Northwestern Law, Finn continues to spread awareness of the SMHA, connecting with other student groups like OUTLaw and the Black Law Students Association. "By the time I leave Northwestern, I hope that the Students Mental Health Alliance is part of the fabric of the school," he says. "Just having the words 'mental health' in the atmosphere has a big impact. A lot of people feel alone or don't know how to deal, so the fact that the SMHA exists at all is a pretty big deal."