Founder of #MeToo Movement, Tarana Burke, Gives Powerful Dream Week Keynote
02.19.2020
Diversity & Inclusion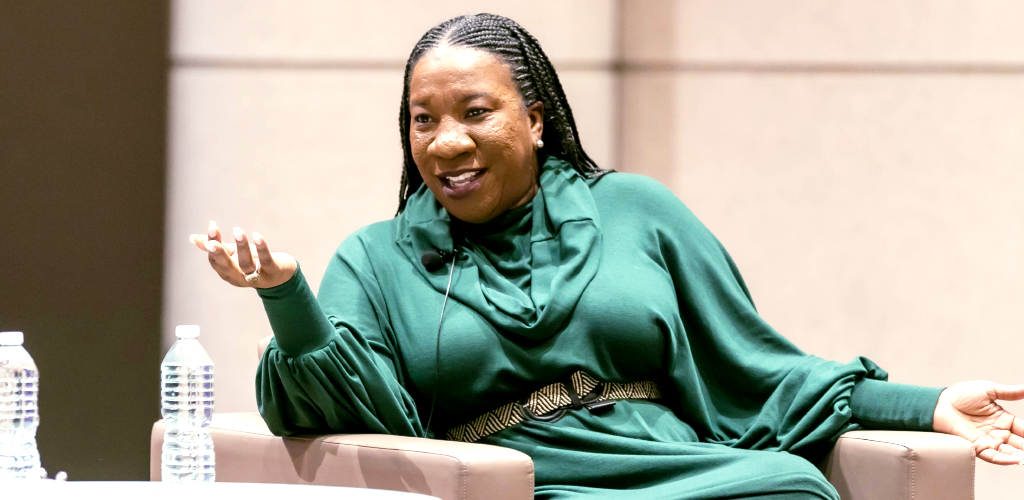 Activist and founder of the #MeToo movement Tarana Burke gave the Dream Week keynote address at Northwestern Pritzker School of Law on January 27. Students, faculty and staff packed Thorne Auditorium to hear Burke in conversation with moderator Shannon Bartlett, associate dean of inclusion and engagement. Dean Kimberly Yuracko opened the event by highlighting the importance of Dr. Martin Luther King, Jr.'s legacy and his prevailing inspiration for activists who continue his work today.
The media often points to October 5, 2017—the day the New York Times published a story detailing the decades of alleged sexual harassment and assault by film producer Harvey Weinstein—as the start of the #MeToo movement. But Burke officially launched the movement when she introduced a Me Too page on Myspace more than a decade earlier, in 2006. "It was declarative," Burke said of the page that she hoped would provide support, healing and empowerment for survivors.
When the Weinstein news broke, actresses including Rose McGowan and Ashley Judd came forward with their own accounts of sexual assault. Although the media focused on these high-profile, white, and wealthy survivors, Burke said her work originally began as a way to shine a light on women from underrepresented groups. Still, she said she objects to claims that white women hijacked the #MeToo movement. They are survivors, too, she said. Burke did call out and criticize the media for not highlighting women from marginalized groups, and said the blame is on them, not the survivors.
During the conversation, Burke recalled a moment that defines her approach to activism work today. She was in the room when Dr. Christine Blasey Ford told her story during Justice Brett Kavanaugh's Supreme Court confirmation hearing in September 2018. Like many, Burke was consumed by Dr. Ford's testimony of her alleged assault, and during a break in the hearing, she went to the restroom where another woman started up a conversation about Dr. Ford's retelling. "I thought we were bonding," quipped Burke to the room. But then the woman said she wished Dr. Ford gave more details during her retelling of the incident. "How could she not remember?" the woman said. Burke quickly—and matter-of-factly—told the woman that after her own experience with sexual assault as a child, "I spent 41 years of my life trying to forget." It was in that moment that Burke said she realized she needed to be more than a figurehead of the movement against gender-based violence. "We have to shift consciousness in America," she said. "We don't know what survivors look like."
Burke said she models her own activism on the work of Dr. King. "There was diversity at the table," she said, in reference to the men and women who surrounded and supported Dr. King in his efforts. "I'm used to being at the table, not the helm." Although she still struggles with being in the spotlight, she's dedicated to doing whatever it takes to encourage progress. "We need to change hearts and minds. We need to change culture," she said. "Seeing change happen is going to compel people, not the headlines." During the Q&A, individuals shared their own stories as survivors, and many asked how they could get involved in the movement. "I know it's corny to say, but I find hope in people," said Burke. "You are not the sum total of the things that happened to you."