Faculty Present Papers at 2018 Conference on Empirical Legal Studies
11.08.2018
Scholarship
Faculty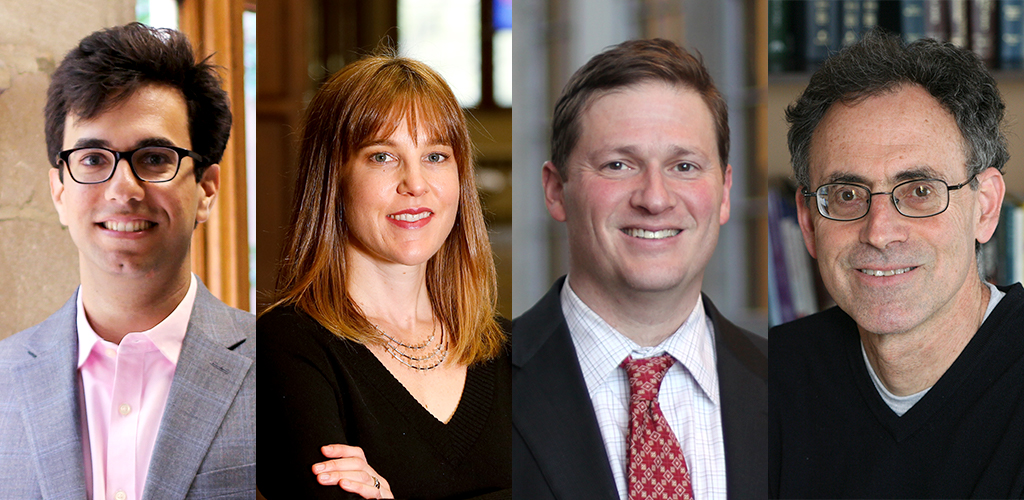 On November 9-10, the 13th Annual Conference on Empirical Legal Studies (CELS) will be held at the University of Michigan Law School. As in years past, Northwestern Law will be well represented at CELS, which brings together scholars from law, economics, political science, psychology, policy analysis, and other fields who are interested in the empirical analysis of law and legal institutions.
Sarath Sanga, Assistant Professor of Law; Tonja Jacobi, Professor of Law; David L. Schwartz, Stanford Clinton St. and Zylpha Kilbride Clinton Research Professor of Law; and Bernard Black, Nicholas D. Chabra Professor are all presenting papers. Matthew Kugler, Assistant Professor of Law, and Janice Nadler, Nathaniel L. Nathanson Professor of Law, as well as Tonja Jacobi, will serve as discussants.
Below is a brief summary of each paper.
Sarath Sanga, "Network Effects in Corporate Governance" Most public companies incorporate in Delaware. Is this because they prefer its legal system or are they simply following a trend? Using the incorporation histories of over 22,000 public companies from 1930 to 2010, I show that firms are more influenced by changes in each other's decisions than by changes in the law. The analysis exploits an unexpected legal shock that increased Delaware's long run share from 30 to 74 percent. I attribute most of this change to a cascading effect in which the decisions of past firms successively influence future cohorts. Delaware firms also enjoyed abnormal returns precisely during those years in which the Delaware network grew most. I conclude that network effects dominate secular trends in corporate governance.
Tonja Jacobi, "The New Oral Argument: Justices as Advocates" (with Matthew Sag)
This Article conducts a comprehensive empirical inquiry of 55 years of Supreme Court oral argument, showing that judicial activity has increased dramatically, in terms of words used, duration of speech, interruptions made, and comments proffered. The Court is asking no more questions of advocates; instead, the justices are providing conclusions and rebutting their colleagues. In addition, the justices direct more of their comments and questions to the side with whom they ultimately disagree. Furthermore, "losing" justices, be it ideological camps that are outnumbered on the Court or dissenters in specific cases, use oral arguments to push back against the dominant group, reasserting an opposing narrative through oral argument. These forms of judicial behavior constitute advocacy, rather than judging. These are not trends that have gradually emerged over time: rather, we predict and establish that oral arguments changed dramatically in 1995, in response to the rapidly growing political polarization in Congress and the public at large. Partisan division, anger at political opponents, and disappearing middle ground all affect not only political players, but shape how Supreme Court justices behave at oral argument, the one public part of the Court's decision-making process.
David L. Schwartz, "Gender Discrimination in Online Markets" (with Christopher Anthony Cotropia and Jonathan S. Masur)
We studied whether a seller's gender impacts the bargained-for price in a product market, specifically baseball cards, and attempt to unpack the reasons for any discrimination that might be present. We accomplish this by use of two experiments, a field experiment in which we actually sold baseball cards on eBay, and a laboratory experiment using surveys on Amazon's Mechanical Turk (MTurk). Contrary to prior studies of the role of gender in the marketplace, we found evidence of discrimination in favor of female sellers in both experiments. Female sellers sold baseball cards for a higher price and greater profit compared to the males. As for the reason, our survey evidence suggests that the higher price appears to be at least partially because respondents believe that female sellers were more likely to handle the card carefully and promptly mail it after purchase, and less likely to present problems in completing the transaction.
Bernard S. Black, "Medical Malpractice Litigation and the Market for Representation: Evidence from Indiana" (with David A. Hyman and Jing Liu)
How concentrated is the market for representation in medical malpractice (med mal) cases, whether for plaintiffs or defendants? How often do plaintiffs proceed pro se, and with what results? Do successful lawyers start off with better cases to begin with or do they add more value to the cases – or both? What law school did elite practitioners attend – and where are they located? Building on earlier work involving Illinois, we use a dataset of every med mal case filed in Indiana during 1976-2014 to identify the 2,717 plaintiff-side firms and 781 defense-side firms that handle these cases. We stratify these firms into three tiers and compare case outcomes with different tier match-ups. Finally, we use propensity score weighting to place some boundaries on the effect of representation on the chances of prevailing and on total recovery.