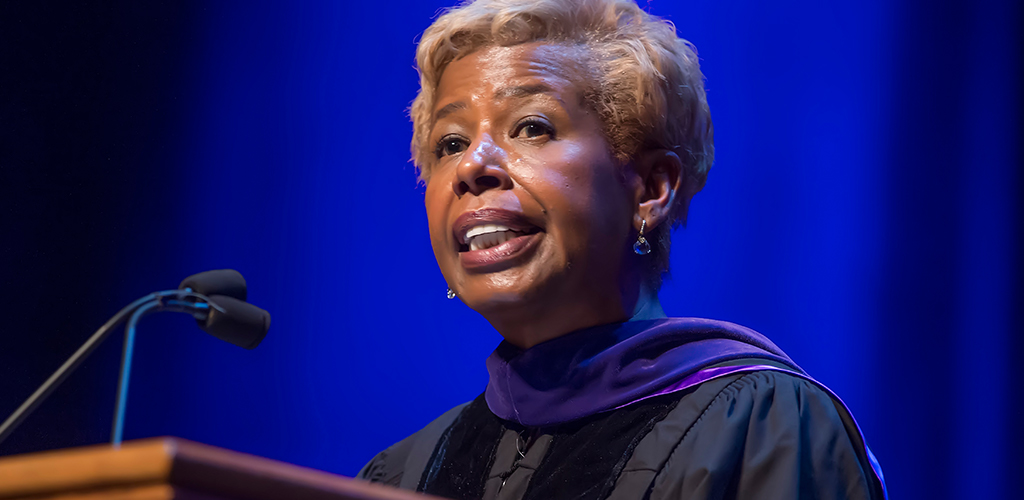 On Friday, May 11, over 500 graduates were joined by faculty, family, and friends for the Northwestern Pritzker School of Law's 2018 convocation ceremony at the Chicago Theatre.
Sharon Y. Bowen (JD-MBA '82), director of the Intercontinental Exchange, delivered the keynote address. She was the first African-American appointed as commissioner of the U.S. Commodity Futures Trading Commission, a role she held from 2014 to 2017.
"When I entered law school, female faces were fewer, black women faces even rarer, but I grew to know my power," she told the graduates. "Once you recognize your power, you get to decide how to use it and chart your own path."
Prior to her role in the CFTC, Bowen was confirmed by the U.S. Senate and appointed by President Obama to serve as vice chair and acting chair of the Securities Investor Protection Corporation. Previous to her work in the Obama administration, Bowen had a renowned three-decade career in corporate and transactional law as an associate at Davis, Polk & Wardwell and later as an associate and then partner at Latham & Watkins. She received the 2011 Diversity Trailblazer Award of the New York State Bar Association and was selected as the New York City Bar Association 2007 Diversity Champion and the Metropolitan Black Bar Association 2006 Lawyer of the Year. She is also a former executive member and chair of the Law School Board.
In addition to Bowen, Dean Daniel B. Rodriguez, Northwestern University President Morton Schapiro, and student speakers Steven Kobby Aye Lartey (JD '18), Constantin Wischnath (LLM '18), and Lauryn Robinson (MSL '18) addressed the crowd.
During the ceremony, faculty and student awards were presented. Former Student Bar Association president Eric X. Ding (JD '18) presented the following teaching awards to:
Kendrick Washington II – Outstanding Adjunct Professor
Nadav Shoked – Outstanding First-Year Course Professor
Jason DeSanto – Outstanding Professor of a Small Class
Herbert Beller – Outstanding LLM Tax Professor
Susan Provenzano – Robert Childres Memorial Award for Teaching Excellence
"I feel gratitude, not just for the opportunity to have taught you but to learn from you […] You, my students, have been my best teachers. […] I saw the law through your eyes," Professor Provenzano said, before presenting the following student awards:
Karen Villagomez and Cem Uyar – Courage Award
Jordan Blain and Garrett Fields – Legal Profession Award
Eleanor Kittilstad – Service Award
Arielle Tolman – Leadership Award
Steven Kobby Aye Lartey – Wigmore Key
Northwestern Law's 2018 graduating class includes 194 candidates for JD degrees and 24 candidates for joint JD-MBA degrees, 149 candidates for LLM degrees, 48 candidates for LLM degrees in taxation, 17 candidates for LLM degrees in international human rights, and 75 candidates for MSL degrees. Other degrees presented included those in the Executive LLM Programs in Seoul (8), Madrid (15), and Tel Aviv (26), and two candidates for Master of Studies in Law.