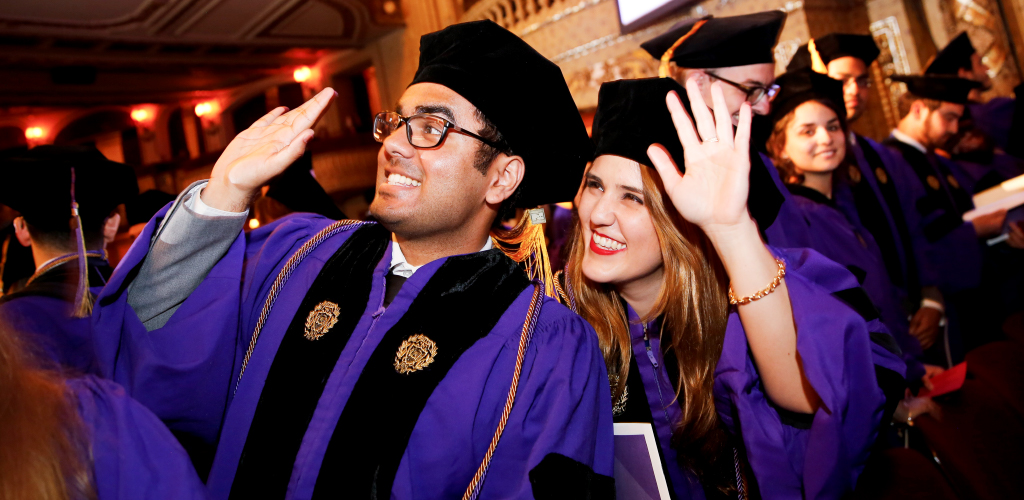 On Friday, May 12, over 500 graduates, along with their families and friends, filled the historic Chicago Theatre for the Northwestern Pritzker School of Law's 2017 convocation ceremony.
Justice Richard Bernstein (JD '99) of the Michigan Supreme Court delivered the keynote address. Blind since birth, Bernstein has a long history of advocating for disabled rights. His remarks focused on finding strength and joy in challenges and adversity.
"You'll face setback. You'll face hardship. But when you're drifting, when you're struggling, when your future is undefined, that's when miracles happen," he said.
Prior to being elected to Michigan's highest court, Bernstein headed the public service division for The Sam Bernstein Law Firm in Farmington Hills, Michigan. His cases often set national standards protecting the rights and safety of people with and without disabilities. In a landmark settlement against Delta Airlines and Detroit Metro Airport, Bernstein gained accessibility for disabled fliers, helping set the standard for which airlines and airports are to be covered under the Americans with Disabilities Act of 1990. He also challenged the City of New York to make Central Park and all parks safer for visitors and accessible for disabled and visually-impaired individuals.
In addition to Justice Bernstein and Dean Daniel B. Rodriguez, student speakers Matthew Monahan (JD '17), Nelson Medeiros Carneiro Neto (LLM-K '17), and Atefah Namvaryshad (MSL '17) addressed their fellow graduates.
During the ceremony, faculty and student awards were presented. Outgoing Student Bar Association president Marco Minichiello presented the following teaching awards:
Kevin Agnew – Outstanding Adjunct Professor
James Lupo – Outstanding First-Year Course Professor
Deborah Tuerkheimer – Outstanding Professor of a Small Class
Robert Wootton – Outstanding LLM Tax Professor
Karl Lutz – Robert Childres Memorial Award for Teaching Excellence
Professor Lutz presented the following student awards:
Anavictoria Avila – Courage Award
Arnav Dutt – Legal Profession Award
Stephanie Ciupka – Service Award
Ngozi Nezianya – Leadership Award
Liani Balasuriya – Wigmore Key
Northwestern Law's 2017 graduating class includes 230 candidates for JD degrees and 28 candidates for joint JD-MBA degrees, 101 candidates for LLM degrees, 24 candidates for the LLM degree and certificate in business administration from Kellogg, 45 candidates for LLM degrees in taxation, 13 candidates for LLM degrees in international human rights, and 50 candidates for MSL degrees. Other degrees presented included those in the Executive LLM Programs in Chicago (13), Seoul (11), Madrid (28), and Tel Aviv (29), six candidates for Master of Studies in Law, and two candidates for Doctor of Judicial Science.
A video recording of the convocation ceremony is available online.