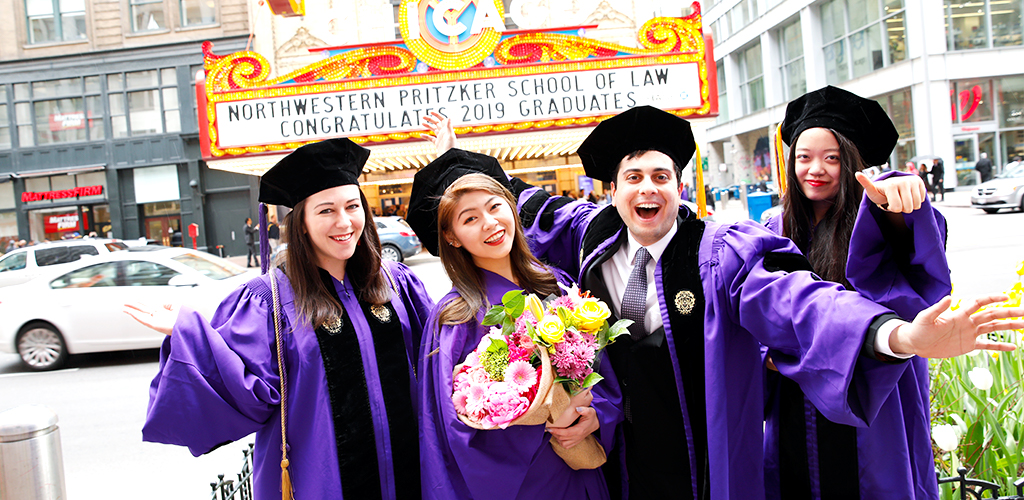 On Friday, May 17, 589 graduates were joined by faculty, family, and friends for the Northwestern Pritzker School of Law's 2019 convocation ceremony at the Chicago Theatre.
Presiding over her first convocation ceremony, Dean Kimberly Yuracko welcomed the graduates to the Northwestern Law alumni community. "Like the 158 classes that preceded you, your class has left a meaningful mark on the Law School," she said. "And like those classes, you too will accomplish extraordinary things in your professional lives, adding to the legacy of this esteemed institution."
Courtney D. Armstrong (BS '93, JD-MBA '96), executive vice president of worldwide business affairs for Warner Bros. Pictures, delivered the main convocation address. "It's important to remember that as much as you've changed during your time here — more change is coming," he told the audience. "Keep your minds and hearts open to life's endless and unforeseeable possibilities."
During his career at Warner Bros., Armstrong has been involved with several key film projects, including Dunkirk, Fantastic Beasts: The Crimes of Grindelwald, Justice League, Lego Batman, Ocean's 8, Ready Player One, The Dark Knight trilogy and Wonder Woman. Before joining Warner Bros., Armstrong was an attorney at Walt Disney Pictures. He began his career as a litigation associate on the entertainment team at Paul Hastings LLP in Los Angeles. Armstrong is a member of the Law Board, and won the Northwestern Alumni Medal in 2018.
In addition to Armstrong, Argie Mina (JD '19), Gonzalo Velez (LLM '19), and Kat Klein (MSL '19) addressed their fellow graduates. Dean of Students Susie Spies Roth (BA '01, JD '06) concluded the ceremony.
On Thursday, May 16, an awards ceremony was held to honor faculty members and students. The 2019 teaching awards were presented to:
Paul Chadha, Outstanding Adjunct Professor
Emily Kadens, Outstanding First-Year Course Professor
Mary Foster and Wendy Muchman, Outstanding Professors of a Small Class
Robert Wootton, Outstanding LLM Tax Professor
Nancy Gamburd, Outstanding Professor of a Small MSL Class
Michael Barsa, Outstanding Professor of a Large MSL Class
Destiny Peery, Robert Childres Memorial Award for Teaching Excellence
The following student awards were presented to:
Argie Mina, Wigmore Key
Shelisa Thomas, Courage Award
Lauren Pope, Legal Profession Award
Sarah Aagard, Service Award
Melissa Moreno, Leadership Award
The degrees for the Class of 2019 will be formally conferred at Northwestern University's Commencement on June 21 at Ryan Field in Evanston.
Video of the Northwestern Law 2019 Convocation ceremony is available on YouTube.