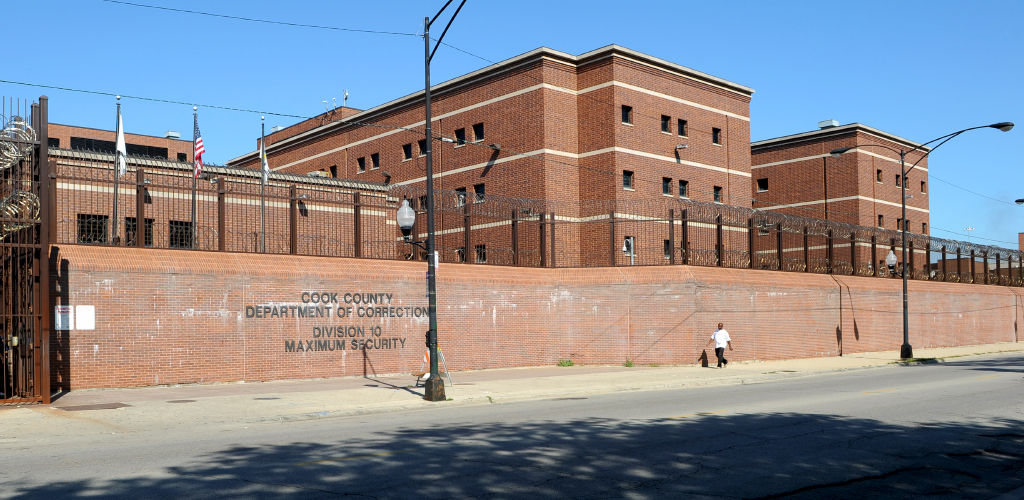 At the onset of the COVID-19 pandemic, prison reform activists jumped into action, flagging the unique dangers of the coronavirus behind bars. But as activists have gained ground in states like Illinois, the threat of a potential rise in case numbers this fall (including jumps in states like Florida, Oklahoma, and Texas) leave many on the frontlines worried for what's next. While mask-wearing and social distancing has become commonplace to stop the spread of COVID-19 in much of society, it's virtually impossible to maintain distance in prison, and attorneys at Northwestern Pritzker School of Law's Bluhm Legal Clinic have been focused on that problem in their efforts to release detainees from Illinois prisons, Cook County Jail, young adult prison, and detention centers.
In April, Cook County Jail in Chicago's South Lawndale neighborhood was home to the fifth- largest known cluster of COVID-19 cases in the United States, growing to 940 confirmed cases by April 30, according to The New York Times. The Cook County Sheriff's office reported that those numbers included 148 correctional officers. (As of August 18, those numbers had decreased to 15 detainees in custody and 20 correctional officers, according to the Cook County Sheriff's office.) But even before those statistics made headlines, Vanessa Del Valle, clinical assistant professor of law, and Sheila Bedi, clinical professor of law, were working closely with students and other Clinic faculty to get individuals released from Illinois prisons in the wake of the pandemic. Collectively, they have filed three lawsuits against the Illinois Department of Corrections (IDOC) — two in federal court and one in state. "All three lawsuits [were] essentially asking the same thing. They [were] on behalf of the same 10 named plaintiffs and in each of them we [sought] to represent a class of everyone in IDOC custody right now [who has a case to be released] or who will in the future," Del Valle says. "The first group of people are medically vulnerable because they have underlying medical conditions, which have been listed by the Centers for Disease Control as making someone more prone to severe illness or death if they catch COVID-19. The next class is people who are medically vulnerable due to their age."
Governor J.B. Pritzker issued an executive order significantly expanding medical furlough and two of Del Valle and Bedi's named plaintiffs received commutations in April, while another was released soon after. James Money, 28, and Carl Reed, 59, each went home to their families. "[Money] had already served five years for a residential burglary and he was sentenced to be released in June of 2020," Del Valle says. He was diagnosed with stage three thyroid cancer, making him extremely vulnerable should he contract COVID-19. "Also because of COVID-19, IDOC canceled his chemotherapy appointments because they have been limiting movement and limiting the amount of activities…which obviously puts him at great risk." Reed suffers from severe kidney disease, which requires dialysis three times a week. "He had eight years left on his sentence," says Del Valle. "He had a petition for executive clemency pending, and he was granted his clemency petition." In addition to Money and Reed, Carl "Tay Tay" Tate was also released — her clemency petition was also granted by the Governor.
As of August 20, Bedi and Del Valle were in settlement negotiations with the IDOC — working on one of the lawsuits they filed in federal court (Section 1983). A Section 1983 lawsuit provides individuals the right to sue state government employees for civil rights violations. This particular class action lawsuit was originally Money, et al. v. Pritzker, et al., but is now Richard, et al. v. Pritzker, et al. after Money was released. Since its original filing, Bedi and Del Valle have filed an amended complaint. "We dismissed some plain- tiffs and added in new ones," Del Valle says. The class-action currently has a total of 22 plaintiffs.
Elsewhere in the Clinic, back in April, Locke Bowman, executive director at the Roderick and Solange MacArthur Justice Center and clinical professor of law, and Alexa Van Brunt, clinical associate professor of law, with co- counsel Loevy & Loevy and Civil Rights Corps, and in cooperation with the Chicago Community Bond Fund, filed a lawsuit against Cook County Sheriff Thomas Dart. The emergency class action lawsuit asked not only for the immediate release of medically vulnerable individuals, but also challenged lack of sanitation, testing and face masks at the Cook County Jail. On April 27, a federal court entered a preliminary injunction and ordered Sheriff Dart to implement social distancing in housing units at the Jail and to provide continued protections for incarcerated people during the pandemic.
In July, a new CDC review claimed that Cook County Jail was able to curb new COVID-19 cases, crediting Sheriff Dart. But Van Brunt notes that the prison didn't expand testing and social distancing voluntarily, but because of the Clinic's lawsuit. "Sheriff Dart's argument [that he is responsible for flattening the curve at Cook County Jail] rests on a desire for credit," says Van Brunt. "He is ignoring how we got here — through court intervention — and losing sight of the fact that the pandemic is still an ongoing threat. In fact, the Jail population is increasing and many believe COVID-19 will get worse in the fall. If we ignore how we got here we risk repeating the same mistakes."
The Sheriff appealed the preliminary injunction to the Seventh Circuit, which recently upheld much of the district court's order — one of the only COVID-19 orders to survive at the appellate level throughout the country.
Though many Clinic attorneys have been busier than ever during this unprecedented time, they haven't been working alone, instead partnering with local organizations and Law School students. "Students [have] worked incredibly hard on this effort — putting in many, many hours and functioning as junior attorneys," Bedi says. Emily Grant (JD '21), Paul Jones (JD '20), Terah Tollner (JD '20), Luke Fernbach (JD '21), and Lucien Ferguson (JD-PhD '22) all contributed to the effort. They also collaborated on a summary of recommendations to the United Nations Universal Periodic Review which was presented over Zoom to over 55 diplomats from 44 Permanent Missions to the United Nations in Geneva earlier this year. Del Valle says the support of other community groups has been amazing. "We wouldn't be where we are if it wasn't for organizations like the Chicago Community Bond Fund, because we are getting a lot of information from local community groups and advocates who are really pushing [against the system]."
At the Clinic's Children and Family Justice Center (CFJC), attorneys have been working to release children from the Cook County Juvenile Temporary Detention Center (JTDC) and Illinois Department of Juvenile Justice (IDJJ). "We've been trying to close prisons and get kids out of prison for the last decade," Julie Biehl, clinical professor of law and director of the CFJC, says. The center has long advocated that adult-style prisons are the wrong approach for rehabilitating juveniles, and that work has continued during this global pandemic. "We've just accelerated," Biehl says.
In March, the CFJC created a website showcasing their public advocacy to get children out of the JTDC and IDJJ and home to their families. The website highlights the letters the team has sent to officials — including Governor Pritzker, State's Attorney Kim Foxx, and Chief Judge Timothy C. Evans — demanding the release of detained children to their homes. They've been successful, but obstacles have arisen since July. "When the coronavirus hit in Illinois, there were approximately 225 children inside our state system," Biehl says. By late spring, the IDJJ population went as low as 103, but IDJJ began accepting intake from the detention centers around the state in July. "On August 4th, formerly incarcerated youth and other youth impacted by the juvenile legal system launched The Final 5 Campaign which seeks closure of the remaining five Illinois youth prisons and investment in Illinois' communities most deprived of resources," Biehl says. "In addition, the CFJC has taken on the representation of nine youth who are serving time in IDJJ due to being tried and convicted in criminal not juvenile court." These youth are not eligible for release and are scheduled to be transferred to the Illinois Department of Corrections to serve the remainder of their sentence, which the CFJC is trying desperately to avoid. "Currently, CFJC attorneys and students are working on clemency petitions seeking their release," she says.
At the end of July, Governor Pritzker, Lt. Gov. Juliana Stratton and IDJJ Director Heidi Mueller announced plans to overhaul the state's juvenile justice system and shift to smaller, "community-based" regional facilities, a transition that will take place over the next four years. "Our goal must be an end to the imprisonment of all children," said Biehl in a press release soon after the Governor's announcement. "No children of any race should be in prison cells surrounded by barbed wire and unable to visit their families. Illinois has come a long way in the reform of the juvenile justice, but more is left to be done." Del Valle stresses that every Chicagoan should pay attention to the infection rates in prisons, even if they don't personally visit. "One person catches it and it spreads like wildfire," she says. "[Jails] are not closed environments — people are still coming in and out. There are a number of staff, guards, mental health counselors, and other people that work in the jails and prisons who enter and leave on a daily basis. It's not just a problem for jails and prisons, it's a problem for the surrounding community."
Attorneys at the Clinic say they will continue to fight for their clients and do everything they can to bring them back home to their families during this unprecedented time. "Our fight continues," says Bedi. "We are filing commutation petitions, working up the federal litigation, and we hope we can work collaboratively with the Governor's office to save lives."