Ceremony Celebrates Installation of Yuracko as Dean
09.19.2018
Faculty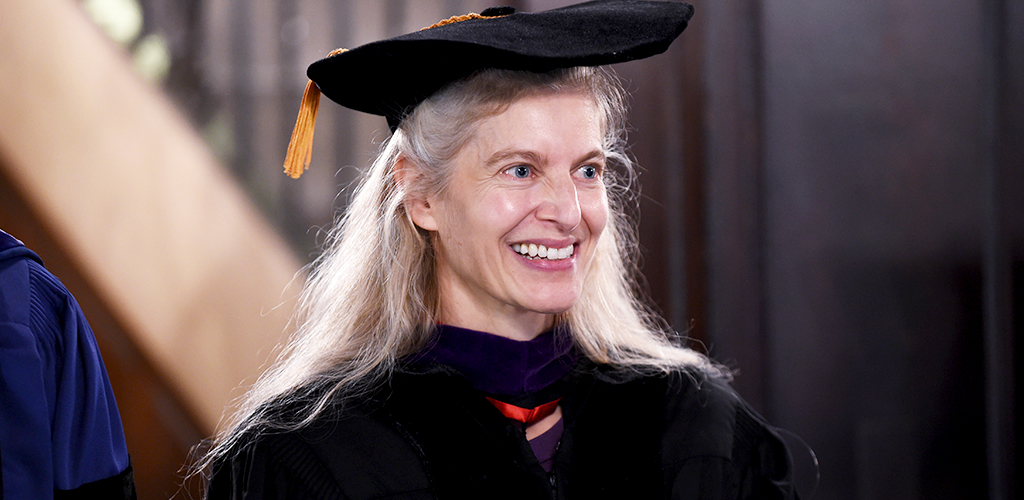 On September 6, Kimberly Yuracko was formally installed as the dean of Northwestern Pritzker School of Law in a Lincoln Hall ceremony attended by University President Morton Schapiro, Provost Jonathan Holloway, and many members of the Northwestern Law community.
"Whether entirely professional or entirely personal, I've walked away from every conversation with Kim impressed, reminded of the excellence that surrounds me in my daily work at Northwestern," Holloway said, before formally installing Yuracko as dean. "I am confident that Kim will bring that same mixture of resolve and conviction that I find so compelling in all of my interactions with her. She is, in my view, the dean that [the Law School] needs in this moment. I'm excited to see how she puts her imprint on the faculty, student body, the staff, the school, and the world of legal education more generally."
Yuracko, who also holds the Judd and Mary Morris Leighton Chair, becomes the tenth full-time dean of the Law School, and is the first woman to hold the position. She previously served as interim dean in 2011. Her primary research interests are in antidiscrimination law with a focus on sex discrimination in employment and gender equity in education, and she teaches courses in employment law, property, and family law.
"I grew up professionally at Northwestern Pritzker School of Law. This community has taught me, supported me, and given me so many opportunities for growth and development. I'm so proud of our community and I'm humbled by the honor of being the Law School's next dean," Yuracko said.
Yuracko talked about the importance of recognizing that institutions are made up of people, each bringing their own strengths and perspectives. Referencing notable alumni and barrier-breakers Ada Kepley (LLB 1870), Harold Washington (JD '52), and Dawn Clark Netsch (JD '52), she said, "Northwestern Law has always known that diversity and empowered inclusion makes our community strong."
Also recognized at the ceremony was Janice Nadler, who was named Nathaniel L. Nathanson Chair in 2017. Nadler's research focuses on criminal law; social norms and compliance with the law; and negotiation and dispute resolution. The chair is named in honor of former Northwestern Law Professor "Nat" Nathanson, a faculty member from 1936 to 1977, the longest tenure in the school's history.
"Professor Nadler is a rigorous, curious, open-minded scholar whose work is dedicated to a better understanding of the law and its processes," said Erin Delaney, professor of law and associate dean of faculty and research, introducing Nadler. "Amidst the many current challenges to our faith in law, institutions, and even in each other, we need Janice's work now more than ever."
Nadler paid tribute to Nathanson and called it a great honor to hold the chair bearing his name.
Quoting a former colleague of Nathanson's, Nadler said, "'Nat believed that constitutional law should safeguard the fundamental values of our democratic society and that administrative law should provide the framework, consistent with these values, to enable government to accomplish its objectives effectively.' As a scholar, my own intellectual focus and passion has been how law can accomplish its objectives effectively."