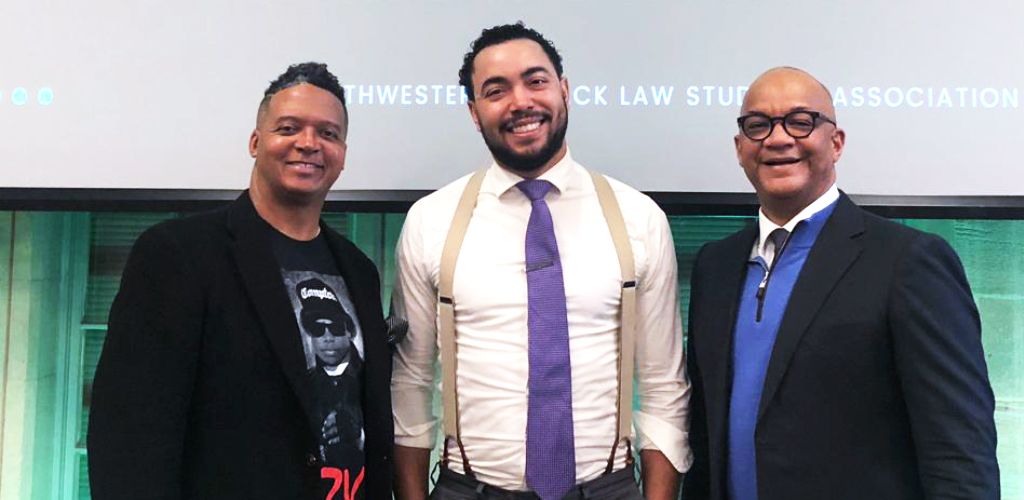 The Black Law Students Association (BLSA) at Northwestern Pritzker School of Law held several events dedicated to black entrepreneurship, advocacy, and community the week of February 24. The week's theme, "The Marathon Continues," was a nod to the late rapper Nipsey Hussle, whose life's work was dedicated to black empowerment and self-reliance.
"BLSA Week 2020 focuses on how lawyers and law students can be entrepreneurial and innovative in our work by investing in communities that pour into us, pushing for necessary but hard change, and advocating for underrepresented populations," said Shay Wilkerson (JD '21), vice president of events for BLSA. "We hope these events allow [people] to see the work that needs to be done in this law school, the legal community, and our communities as a whole."
The week kicked off with the panel discussion "Hustle & Motivate: Embodying the Entrepreneurial Spirit to Branch Out of the Traditional Legal Track." The panel consisted of Bryan Parker, co-Founder & CEO of Legal Innovators, which recruits and hires junior legal talent from top law schools; Jim Beckett, managing partner at Re:land Group, a minority-owned urban planning, design and development company; and Todd Belcore (JD '10, co-founder and executive director at Social Change, a nonprofit that amplifies community voices through organizing, advocacy and storytelling.
"It's still white people telling you how to best help brown people," Belcore said when describing the majority of the non-profit sector. "That's why we started our own thing." You don't often see an organization reflect the body of the people it serves, he pointed out.
Parker credited his hustle, grind, and motivation for much of his success, while Beckett emphasized the importance of failure, especially as an entrepreneur. "Bounce back and deal with it," said Beckett.
During the Q&A, Belcore answered questions about working for a purpose and dealing with the reality of paying bills, noting that the two aren't always mutually exclusive, even if that's the popular narrative. "They teach you to be slaves to current systems of law," he said. "Make sure you're willing to invest the time…how long are you willing to fight that fight?"
Beckett's advice: Make sure what wherever you work is a great fit. Embrace what you bring to the table. Be comfortable. Interview them. Ask questions. Ask yourself: "Will this place embrace me for who I am?"
Other events during the week included a talk on how to thrive in big law firms throughout the country, and how to work with non-legal community advocates to make change. In the Atrium, a slideshow showcased the talent and legacy of several black revolutionaries, entertainers, and influencers, from Barack and Michelle Obama to leaders of the civil rights movement to the week's inspiration, Nipsey Hussle.
The celebration came to an end with a discussion on how non-black people can be allies to black law students, faculty and staff on a daily basis. McKayla Stokes (JD '20), Shannon Bartlett, associate dean of inclusion & engagement, and Vice Dean James Speta, engaged in conversation and shared their own personal experiences at the Law School. "The biggest takeaway for all students in the NLaw Community is that there is still a ton of work to be done to help support and advocate for underrepresented communities," said Cyerra McGowan (JD '21), president of BLSA. "We as law students are in a position to use our skills and privilege to find innovative ways to advocate for these communities."