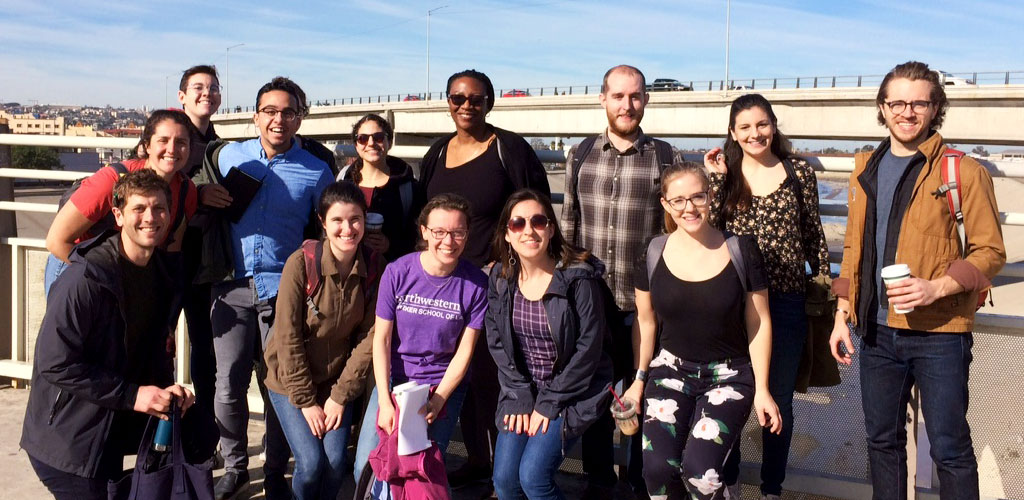 In the final days of winter break, Children and Family Justice Center attorneys Uzoamaka Emeka Nzelibe, clinical associate professor of law, and Amy Martin, Immigration Law Fellow, led a dozen Northwestern Law students to Tijuana, Mexico where they spent three days volunteering with Al Otro Lado, a nonprofit supporting asylum-seekers at the U.S.-Mexico border.
Volunteers spent mornings at El Chaparral, the border crossing from Tijuana into San Diego, where migrants seeking entry into the United States put their names on "the list," a numbering system maintained by migrants themselves, that the Mexican and United States governments use to determine who will be allowed to present themselves at the port of entry each day.
"I was surprised to find out just how much the Mexican and American governments are in complete coordination with the illegal system to process individuals seeking asylum," says Hannah Conforti (JD '21), who hopes to work in immigration law. "Generally, I was surprised by the lawlessness with which the relevant organizations conducted themselves. It made me incredibly sad that people survived such horrible circumstances in their home countries that they were willing to go through the treacherous asylum process."
At El Chaparral, volunteers handed out flyers to migrants who had just signed up or were unlikely to be called that day, encouraging them to attend Al Otro Lado's "Know Your Rights" presentation and consult with volunteer attorneys. They also provided information about the asylum process to those who were likely to be called.
"I would meet with the migrants who were set to cross that day, explaining the requirements for asylum and what to expect in their Credible Fear Interview," says Keith Armstrong (JD-LLM IHR '20). "Through these conversations, many migrants shared their harrowing stories with me, and I learned about the dire conditions they were fleeing. In addition to this, I would tell the migrants what they might expect upon crossing: their possessions will be confiscated, they will be detained, and that family separation remains a very real possibility. I also suggested that they take photos of any documents they had and send them to family in case the originals went missing."
The group spent afternoons at Al Otro Lado, conducting one-on-one intakes under the supervision of licensed attorneys, as well as helping with whatever the center needed — babysitting, translating, cleaning, and serving meals. Getting to speak to asylum-seekers one-on-one highlighted for the volunteers the very personal toll of a large and complex problem.
"It's easy to ignore the human reality of migration when you see words in the news like 'caravan' and 'border security.' But every member of that caravan had a very important reason to leave their home country; it's not a decision that anyone makes lightly. Hearing the stories of the migrants in Tijuana was a powerful reminder that individual voices and experiences often get lost in the media frenzy," says Armstrong.
"The stories that I heard at the border were consistent with my experience working with Central American migrants here in Chicago," adds Nzelibe, who represents asylum-seekers once they've entered the United States. "It's so different from this idea that people are coming in as gang members or they're purely coming for economic reasons. A lot of the people we talked to described situations of extreme violence, and being afraid to go back to their country because of this extreme violence."
The trip also allowed Nzelibe to see firsthand what her clients go through before she meets them.
"I start their story when they get to Chicago. It's still an uphill battle, but they've already been through so much. The person who gets to Chicago is one of just a small percentage of the thousands of people who are trying to get to Chicago. That's what was so eye-opening for someone who's been doing this work for so long. Seeing this part of the process and just knowing that there are so many other people who won't make it here."
"The situation there is so dire," says Martin. "If we do a trip like this again, which we'd like to, I hope we're facing a different set of circumstances and there have been some improvements."